Main Page
Vintage computers from the dawn of the personal computer
Shows
Eight October, 2016
The Retro Wagon collection has it's
public debut
at
Desert Code camp
at
Chandler-Gilbert Community College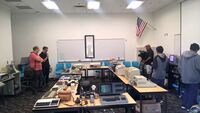 The view as you entered the room.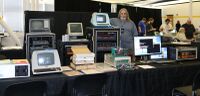 My booth at VCF West 2017
A couple views of the yet unfinished Retro Wagon. Intended to be a mobile museum of vintage computers from the late 1970s and early 1980s. Where's Waldo? Imasi, Altair, PDP, Apple, IBM, Sony, Commodore, Atari, Intel, Heathkit, Bell telephone
Resources
Blog
Retro Wagon Blog Articles on restoration of boards and systems.
Wiki
Retro Wagon Wiki History of modifications to this site.
Contact Form
Please use this Contact form on the RetroWagon.Org blog.
What's new at the Retro Wagon Wiki
---
---
Systems in Collection
S-100 Systems IBM Altair Commodore Various Kaypro PDP Atari Commodore Amiga Imsai Apple
Many more to come. I have not completed documenting all the systems in the collection.
Functional system in collection
Check out the sub Category 'Operational' denoting systems that are functional in the Retro Wagon mobile museum (of the Category Operational Status)