20ma current loop to RS-232 conversion
20ma current loop <> RS-232 conversion
Vintage PCB
Dig this crazy circuit board man! Still in it's original packaging from Hobby World Electronics in Northridge California.
Additional Resources
Helpful article, Teletype 101 from vintagecomputer.net
Another circuit. From [Altairclone] Specifically designed to fit in a Teletype model 33 using only a 12vdc wall wart for power.
Another circuit I found referenced on the greenkeys email list
My ASR hookup
I built the circuit described above from the altairclone site. I found the Teletype 101 article helpful for identifying the proper terminal strip locations. The interface works. I set baud to 110, with 7 bits and 'mark' parity in TeraTerm on a windows 8 notebook with a Gigaware USB<> serial convereter.
Schematic 1.1
From the original schematic at altairclone I added ASR terminal strip location numbers.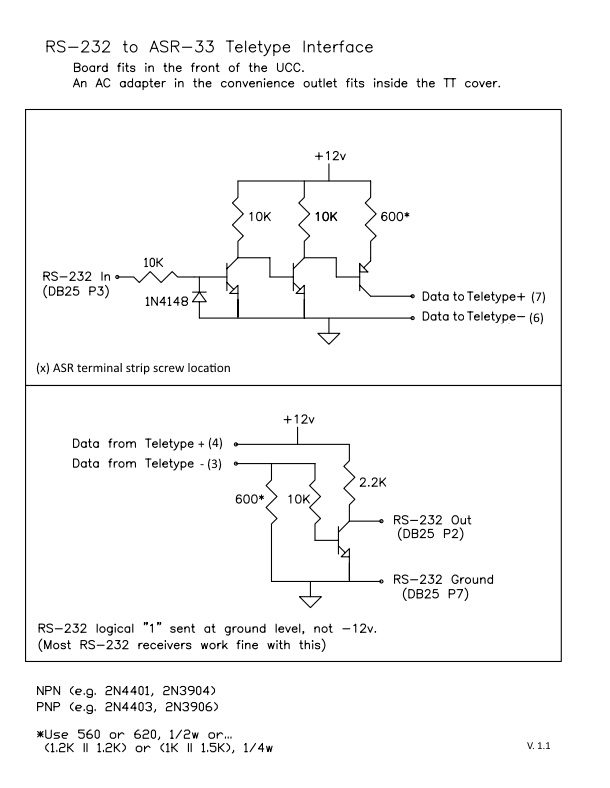 Wiring legend
                               screw        wire              schematic
Signal                        terminal      color             connection
(Teletype 101 nomenclature)   (on ASR)      (mine)          (altair clone nomenclature)  
---------------------------------------------------------------------
Transmitted data send (+)        7          orange          Data to Teletype +
Transmitted data return (-)      6          brown           Data to Teletype -

Received data send (+)           4          red             Data from Teletype +
Received data return (-)         3          black           Data from Teletype -

Image details